Multiple Implants at The Milton Keynes Dental Implant Centre
Introduction
Some patients lose their teeth. This is typically caused by gum infection (periodontitis) or by teeth breaking due to previous fillings.

When this happens there are often multiple spaces to restore. In this case there are a lot of considerations before the treatment can begin

This is where our experienced team comes into the fore.

In cases of Multiple implants the treatment planning can often take as long as the treatment, and this is because we want to get the best result for our patients.
What are Same Day Teeth with Dental Implants (All on 4)?
Click on image above to find out more about "All On 4's"
Bone Grafting/Augmentation
Our implants team at The Milton Keynes Dental Implants Practice offers bone grafting/augmentation in an ultra modern and safe environment.
These are a relatively easy procedure when carried out by experience practitioners and our clinical team has a vast range of experience.
In some cases there is not enough bone to support the implant.
In these cases we add an artificial bone substrate to the area around the implant.
Basically we use artificial bone to promote the formation of real bone.
There are two main scenarios
The first is where we add bone to the area and then wait before we place the implant (a few months). The cost for this is approximately £2/300 per implant.
The second is where the bone is added at the same time that the implant is placed. The cost for this is approximately £300.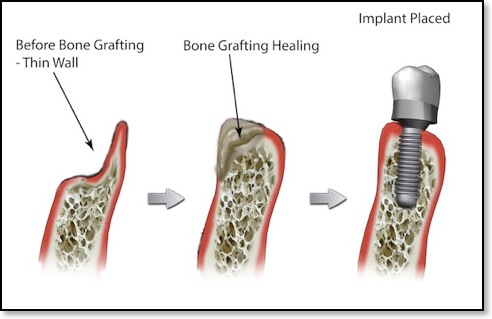 Guided Bone Regeneration
Guided bone regeneration (GBR) involves the use of a membrane that physically separates the osseous tissue from the soft tissue. Ridge augmentation is based on the principle that different cellular components in the tissue have varying rates of migration into a wound area during healing. By using a membrane as a mechanical barrier, fibroblasts and epithelial cells are excluded from the osseous tissue, so that only osseous cells are available to repopulate the healing area. There are several important elements to take into account when grafting a site, such as use of membranes, type of graft, space maintenance, suturing, flap release and design, site preparation, and post-operative medication.
Membranes
Without a membrane, competing cells from the soft tissue may populate the treatment area and prevent osteogenesis. Barrier membranes used in guided bone regeneration procedures can be either resorbable or non-resorbable.
Non-resorbable membranes provide a long-term barrier effect but are subject to soft tissue opening and membrane exposure, which can lead to infection, early membrane removal, and compromised results. Resorbable membranes are less prone to soft tissue opening and becoming infected but some may not function as an intact barrier for extended periods of time.
The efficacy of the membrane technique to prevent graft resorption may be due to a combination of different factors, including:
1) Prevention of fibroblast mass action;
2) prevention of contact inhibition by heterotypic cell interaction;
3) exclusion of cell-derived soluble inhibitory factors; and
4) concentration, locally, of growth stimulatory factor.
We use only the very best artificial bone and tissue substitutes. We chose these because there lots of research papers showing great results.
Sinus Lifts
Our implants team at The Milton Keynes Dental Implants Practice offers Sinus Lifts in an ultra modern and safe environment.
This is a complex procedure and our clinical team has a vast range of experience.
In the upper jaw there are sinuses about the teeth, and this is especially important above the back teeth.
As a result of perhaps gum disease, trauma or other diseases the bone between the gum and the sinus is lost and this means either that the implants have to be very small or there will be a high risk of the implant entering the sinus.
To reduce the problem a layer of bone is established in the sinus thus increasing the bone between the gum and the sinus.
Our Implant team
We have 5 Implant surgeons, Dr Jaime De Castro Torres, Dr Iyad Abou-Rabii, Dr Álvaro De Castro Torres and Dr Ezgi Cilingir
The team has, between them, many years of experience in both the straight forward and the more complex implant cases including full mouth reconstructions
The team has a wide experience of the simple and complex case and carries out all the procedures including any preliminary work like Sinus lifts and other Oral Surgery Procedures.
The team between them has placed considerably more than 2000 implants and continue to place 100's of implants a year
At least one member of the team is available EVERY day of the week.
Dental Implant Fees
We offer an affordable way to have Dental Implants
Implant Type
Fee From
Fee Average
Single Implant
£1250
£1250
Single Implant with Ceramic Restoration
£1850
£1850
Two single implants (Pricing assumes same day procedures)
£3500
£3500
Three single implants (Pricing assumes same day procedures)
£5100
£5200
Two implants supporting small bridge (3 teeth)
£4500
£4650
Three implants supporting a large bridge (5 teeth)
£6200
£6550
Complete arch five or six implants)
POA
£POA
2 implants and a full lower denture
£2400 + Denture
£2400 + Denture
4 implants and a full lower denture
£4400 + Denture
£4400 + Denture
Sinus Lift (Small)
£400
£475
Sinus Lift (Medium)
£800
£875
Sinus Lift (Large/Extensive)
£1200
£1275
Bone Grafting/Augmentation at time of placing implant
£250
£300
Bone Grafting/Augmentation as a separate procedure
£300
£350
Collagen Membrane
from £200
£200
All prices for Dental Implants include implant, abutment and tooth restoration. In cases involving Implant Retained Dentures the cost of the denture is extra but depending on the number of teeth from £500 to £1000 extra.
We believe in being transparent about costs so we charge £1850 for the implant, including the crown. If there is any additional charge, for example for a bone graft, then that will be billed as a separate item, and included in your treatment plan.
Charges for Implant Consultation
£25 for the examination + the cost of any Xrays
For patients seeing
Dr Jaime De Castro Torres
Dr Alvaro (George) De Castro Torres.
Dr Ezgi Cilingir

Free Examination for any of our patients who have had a Full Dental examination in the previous 12 months (Jaime, George and Ezgi)

£65 for the examination + the cost of any Xrays
For patients seeing
Dr Iyad Abou-Rabii